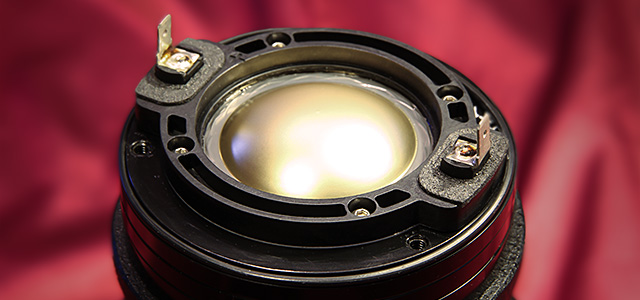 Flying High
Our high-frequency drivers, designed and developed in-house are something to be proud of. Why? The short answer is:
open, natural sound, gentle and extremely fine nuances combine with powerful efficiency that can effortlessly reproduce a HiHat at its original live volume, or even more.
Naturally, not wishing to withhold the exact technical details – here is the long answer:
In our high-frequency drivers, a large neodymium ring-magnet drives a TiN (titaniumnitride)-coated 1.75" Titanium diaphragm. Titanium is particularly light, rigid, resilient and temperature and corrosion resistant. The coating is applied via PVD (physical vapor deposition) in a vacuum chamber.
We thereby achieve an elasticity 6X greater than Titanium and twice as great as beryillium! TiN is used incidentally for coating tools and weapons. It is highly durable and offers optimal dissipation of heat.
This membrane, in combination with a large voice-coil, yields a light and highly durable driver, whose precise reproduction remains linear up to the highest frequencies.
Sound travels through a highly-sophisticated channel into a 1" horn mouth, which in the RA leads directly into the large horn of the coaxial bass driver. In Duke and Isis, the sound is guided by our proprietary tractrix-function horn. This is CNC-milled from solid aluminum billet into a thick-walled, two-piece horn for the purpose of reducing resonances.
The result is very, very linear output, even at the highest volumes. Extremely low distortion combines with high output ability.